Ils ont traversé la France en ramassant des masques !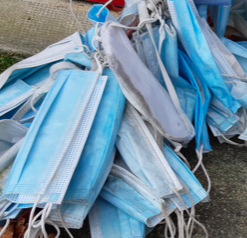 Le jour de la Terre
approche à grands pas

! Cet événement mondial qui est né aux Etats-Unis devient de plus en plus important chaque année. Son but ? Mettre en avant les

préoccupations

environnementales. Découvrons ce duo franco-britannique qui a traversé la France en

ramassant

tous les masques

chirurgicaux

jetés dans la nature.

Edmund et Frédéric, un Français et un Anglais sont partis le 1er octobre 2020 de Marseille pour rejoindre Paris à pied. Ce ne fut pas une simple randonnée. En effet, ils ont décidé de ramasser tous les masques jetés par terre qu'ils ont trouvés sur leur trajet. Pourquoi les masques ? Les deux hommes ont réalisé que le masque était devenu le déchet le plus important de l'année 2020. De plus, ce déchet est composé d'un dérivé du pétrole qui met environ 500 ans à se dégrader.

Ils sont équipés de leurs sacs à dos et d'une pince télescopique sur laquelle ils empilent les masques trouvés. A la fin de leur périple, ils ont accumulé plus de 6300 masques chirurgicaux.

Ils ont aussi profité de cette marche pour rencontrer et sensibiliser la population française à l'impact environnemental des masques jetables. L'objectif étant d'arriver à une utilisation plus récurrente des masques en coton réutilisables.

Edmund est à l'origine de l'association "1 déchet par jour" avec laquelle il fait de nombreuses sensibilisations dans les écoles sur les déchets et la pollution.




Vocabulary:

Approche à grands pas = Will soon be upon us

Préoccupations = concern

Ramasser = to pick

Chirurgical = surgical

Randonnée = hike

Trajet = journey/trip

Déchet = garbage

Dégrader = degrade

Pince télescopique = telescopic pliers

Empiler = to pile up

Coton = cotton

Réutilisable = reusable
Sarah, Thank you for your contribution!