Culturethèque Holiday Classics : Literature, Music and More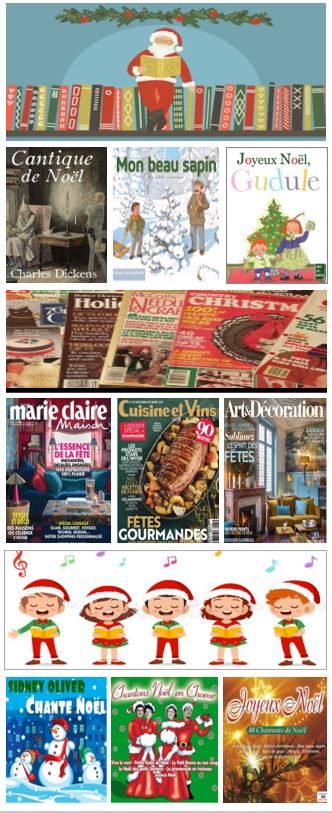 There is no better way to get into the holiday spirit than reading some treasured Christmas titles, listening to music of the season or checking out the latest holiday menu and décor ideas. Your AFSF Culturethèque e-library is stocked for the season and ready to help you find everything you need by serving up holiday favorites in the literature, music collection and magazine kiosk sections.
Readers of all ages will find a wealth of engaging holiday literature classics to read and enjoy. How about trying to read them in French this year to practice your reading comprehension and expand your vocabulary while celebrating the season. Charles Dickens' Cantique de Noel (A Christmas Carol) is always a holiday favorite. And be sure to bring the kids into the holiday reading fun. You will find a large number of holiday titles for children with both text and audio versions available along with some fun bonus interactive online activities for them to do after reading the books.
Music is a universal mood enhancer for those looking to get in the holiday spirit. You will certainly recognize the familiar melodies of classic holiday tunes such as Minuit Chrétien (O Holy Night), Le Petit Renne au Nez Rouge (Rudolph the Red-Nosed Reindeer), Mon Beau Sapin (Oh Christmas Tree) or Douce Nuit, Sainte Nuit (Silent Night), while learning the new French lyrics. In addition to listening to these popular tunes, how about trying out your singing skills. As discussed in this French As You Like It blog, singing in French is an excellent way of picking up new vocabulary and practicing pronunciation. And singing the songs in French will be an excellent diversion from the all too familiar English versions played non-stop this time of year.
Perhaps you enjoy exploring new creative ideas to enhance your holiday menu planning, home decorations or even finding gift selection advice for every one on your shopping list. The Culturethèque magazine kiosk is full of advice in all of these areas. The current issue of Cuisine et Vins will have you cooking like the Michelin star chefs as they share their holiday recipes while Marie Claire Maison and Art&Decoration will help you create the perfect holiday ambiance for all of your guests along with gifts sure to please.
Enjoy celebrating the season in literature, song, food and decor as the French do. Visit the AFSF website for instructions on how to sign up for the Culturethèque e-library. Joyeux Noël et Bonne apprentissage de littérature, chansons, cuisine et décor de Noël Française !