NOW AVAILABLE! Book release - Vivienne in Paris
✨We are thrilled to partner with Maria Castellucci Moore, a local award-winning children's author who is donating a portion of proceeds to our organization! Her book, Vivienne in Paris, teaches kids about French culture through the eyes of a young girl who uses her five senses to explore Paris.✨




📚The Book
Winner of the Mom's Choice Award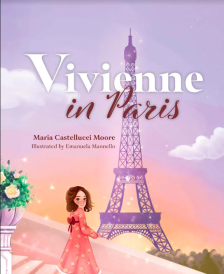 Vivienne in Paris follows a young Parisian girl on a journey through Paris to find what makes her tick. Join Vivienne as she discovers the sights, smells, tastes, and sounds of the city that make her feel alive. What better place to explore, observe, and delight in her senses than Paris?
This book tells a story of mindfulness and insight into how the surrounding world can really move you. It unites curiosity, wonder, and marvel to enlighten, surprise, and tickle your deepest spirit. Sometimes it's the smallest things that bring you the greatest joy.

👩Who is the author?
Maria Castellucci Moore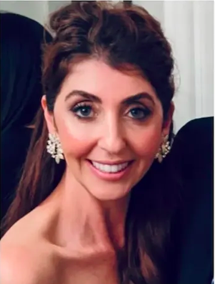 Owner Entrepreneur, first-generation American, writer, and mother to four children. Maria Castellucci Moore strives to bring passion and enthusiasm to all her endeavors. A lover of all things European,María has found great passion through her travels to Paris, Italy, Spain, and South America. Her affection for winemaking, foreign languages, the arts, ballroom dancing, and traveling has given María a unique and grateful perspective on life. Her love for her family and helping others through charitable giving has enabled María to thoughtfully curate purposeful life adventures. María Castellucci Moore earned her bachelor of arts degree in finance from Dominican University on a tennis scholarship, and later pursued studying at New York University and the London School of Economics with a focus on global affairs. In 2016, with her siblings, Maria founded Castellucci Napa Family, a luxury wine and real estate brand. María runs her wine label and a family real estate development company in the greater Bay Area. She is a board member of the San Francisco Opera Guild and is enthusiastic about building opportunity and community through the arts. María resides in Saint Helena, California, with her husband and four young children. She enjoys writing; traveling; attending the opera, ballet, and symphony; flower arranging; winemaking; ballroom dancing; and playing tennis and the piano.
Find more information about the author or her book on https://mariacastelluccimooreauthor.com

🎒 We are excited to welcome Maria this summer to read this book to our campers of the Summer Camp! Our bilingual camp is for kids who want to learn French and/or already speak French. We welcome all levels from beginner to native!
More infos here: https://www.afsf.com/kids-and-teens/camps/
-SARAH