Canadian National Parks
Are you a nature lover? Turquoise lakes, magnificent mountains, never-ending views? If yes, you have to visit Canada and its nationals parks. With over 17.2 million square foot of protected natural land, Canada was the first country in the world that established a national park service! There is so much to see and explore, but today we will give you tips for six of the most beautiful parks in Canada.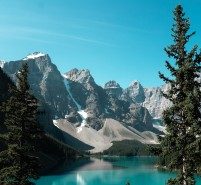 Banff National Park, Alberta:
Heart of the Rockies, bluer-than-blue waters, hundreds of trails - Banff National Park is the most popular national park in Canada and also the very first national park in the country. This iconic park offers guided tours, wildlife sightings, winter activities, horseback riding and, of course, unlimited hiking trails with breathtaking views. Don't forget to visit Lake Louise and Moraine Lake early in the morning, as it gets quite busy with tourists in the afternoon.


Bruce Peninsula National Park, Ontario:

This one is a bit of a hidden gem of Canadian nature providing a Caribbean vibe, picturesque cliffs and hiking trails. You will also find a portion of Canada's oldest and longest footpath running through the park - 485 miles long Bruce Trail. There are tons of activities to do around Lake Huron with the Grotto on it - a huge sea cave that you can reach with a boat.
Gros Morne National Park, Newfoundland:
West coast of Newfoundland hides a UNESCO World Heritage Site with incredible scenery of Gros Morne National Park. Thanks to its unique geology, you will get a chance to hike along the Earth's mantle. One of the most recognizable views is the Western Brook Pond Fjord where you can either hike or take a boat.
Yoho National Park, British Columbia:
Fan of waterfalls? Canadian side of the Rocky Mountains offers crystal clear alpine lakes, mesmerizing fauna and flora and spectacular waterfalls all to be found in Yoho National Park. Make sure to visit Takakkaw Falls with water descending over 833 feet from a sheer granite wall. Another UNESCO Site - Burgess Shale fossils - will give you a glimpse into over 500 million years old fossils from pre-dinosaur-era.
Jasper National Park, Alberta:
Canadian wilderness at its best. Jasper National Park is also a part of UNESCO Sites and is also incredible large, wild and rugged. You can hike it, you can bike it, you can swim here, or you can fulfill you adrenaline outdoor adventure here. It's also fairly close to Banff National Park so you can make a day trip of visiting this beauty.
Nahanni National Park Reserve, Northern Territories:
Nahanni is probably for more experienced hikers as the mountains are quite steep and challenging to ascend. Don't feel discouraged tough - Nahanni offers much more: you can rent a canoe and explore its wild rivers, or this place is also famous for fishery and camping; with the perk of it being that it's not too crowded so you will definitely find your own piece of Canadian paradise here!
-Dominika, thanks for your contribution!