Bon Entendeur, the French group of French voices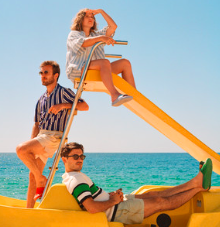 Bon Entendeur is a group of three friends created in 2012 with one common passion : music! 2 tickets to win for their show in San Francisco on our instagram and facebook!

The group is composed by Nicolas Boisseleau, Arnaud Bonet and Pierre Della Monica. They started to publish their music on Youtube and they became known on SoundCloud.
In the process of creation, they create the electro music and then match the voice of a French personality. They can create from old music but also from interviews.Their particularity is to play between melancholy and modernity. Their goal is to create emotion when the audience listens to their songs.
One of the first mixtapes was Rendez-Vous which mixes an interview of Dominique Strauss-Kahn with an electro/hip-hop music. The mixtapes run between 30 min and 1 hour. You can find French personalities such as Charles de Gaulle, Catherine Deneuve, France Gall, Edouard Baer, Coluche, Gainsbourg… They also started to make their own voice recordings instead of collecting from archives. For example; "La séduction" feat Pierre Niney.
They made two albums : Aller-retour in 2019 and Minuit in 2021. Their success has strongly evolved and they now perform on stage and in festivals. Today, they are known all over the world.
Show in San Francisco
They have started their Transatlantic Tour 2023 and will be in San Francisco on March 2nd! The event takes place at 1015 Folsom, starting at 9:00PM.
GIVEAWAY on our instagram and facebook to win 2 tickets for their show! Go to our facebook and instagram account and participate to our giveaway in two clicks!

Instagram : https://www.instagram.com/p/Co0Ws7uPZsc/
Facebook : https://www.facebook.com/afsanfran/
Address:
1015 Folsom St, San Francisco, CA, 94103.
They have their own platform on : bonentendeur.com.
Sarah, Thanks for your contribution!