Recipe: Pain perdu (French Toast)
Looking for a quick and easy way to finish your leftovers? Check out "Pain perdu" (or French Toast)!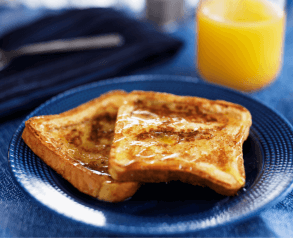 Ingredients:
- 75g cane sugar (0.165lb)
- 25 cl of milk
- 3 eggs
- 6 thick slices of bread


How to cook a "Pain perdu"?
1. Whisk the eggs with sugar and milk.
2. Dip the bread slices in it.
3. Cook them in a frying pan, browning them on each side.
Et voilà, it's already ready! You can enjoy it as a pastry, breakfast, snack, or dessert! 
You can add sugar, cinnamon, maple syrup, fruits  or ice cream!
Did you know it? Pain perdu is a way of using stale bread, either because of the need to not waste food or because throwing away bread, with its religious connotations, is socially unacceptable. But, as it has been taken up by cooks who have enriched it with flavors such as cinnamon, it has also become an element of neat desserts offered in gourmet restaurants.