Recipe: Cannelés de Bordeaux
Discover the famous recipe of the cannelés of Bordeaux!



Ingredients (for 16 people):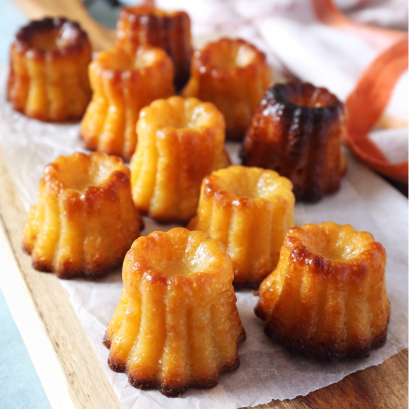 - 50 cL of milk
- 1/2 vanilla bean
- 1 tablespoon of rum
- 100g of flour (0.22lb)
- 250g powdered sugar (0.551 lb)
- 1 pinch of salt
- 2 whole eggs and 2 egg yolks
- 50g of butter (0.11 lb)
How to cook cannelés ?
1. Boil the milk with the vanilla bean previously split and seeded and the butter.
2. Mix the flour and the sugar in a bowl. Incorporate the eggs then pour the boiling milk.
3. Mix gently to obtain a fluid paste like a pancake batter. Let cool.
4. Add rum.
5. Let stand 1 hour in the refrigerator.
6. Preheat oven to 240°C. Pour the cooled dough into the well-buttered molds, filling them only halfway.
7. Quickly place the cannelés on the sheet of the preheated oven at 240°C (464°F) for 12 minutes (20 minutes at 220°C with a silicone mold = 428°F), then lower the temperature to 180°C (356°F) and continue cooking for 1 hour: the cannelé should have a brown crust and a soft interior.
Et voilà!


Did you know it? Legend has it that the origin of Bordeaux cannelés comes from the nuns of the Annonciades convent in Bordeaux. They used to collect wheat from the port, which fell from the holds of ships or from broken sacks, as well as egg yolks. Bordeaux was a major trading port where rum and vanilla from the islands were easily available. The nuns added these ingredients to their recipe to give it more flavor. The cakes were then distributed to the poor or sold for their benefit.