Recette - Le poulet basquaise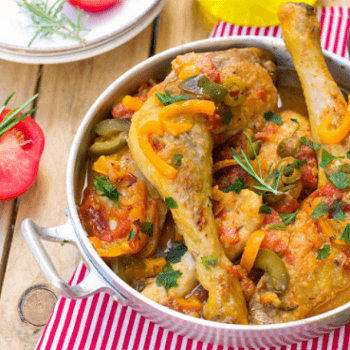 INGREDIENTS
(Serves 4)
1 chicken cut into 6 pieces
3 peppers (green and red)
If you need help converting the units: Kitchen Calculator
Recipe
Cut the chicken.

Chop the onions and garlic.

Cut the tomatoes into pieces and peppers into strips.

In a frying pan, brown the salted and peppered chicken pieces.

In a pan, heat the olive oil. Add onions, garlic, and peppers.

When the chicken pieces are browned, add them to the pan.

Pour in the white wine and add the tomatoes and bouquet garni.

Cook over very low heat for 2 hours, watch and stir occasionally.

Serve with rice.