La tarte à la tomate moutarde 🍅
In the sunny south, the French enjoy mustard tomato pie. Discover with us the recipe for a sunny pie.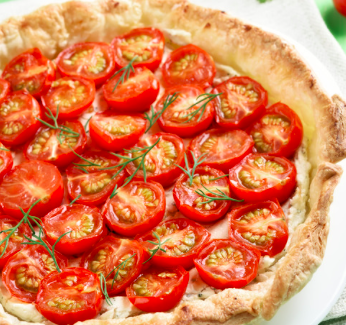 Preparation time: 25min

Baking time: 35-40min

Serving : 4-6 pieces

🍳INGREDIENTS:


350 g puff pastry
1 egg yolk
5 ml water
30 ml Dijon mustard
600 g tomatoes of your choice (3 to 4 medium tomatoes)
Salt
Basil leaves
---

- Preheat oven to 200°C (400°F).
- Place dough on a baking sheet.
- In a small bowl, whisk together egg yolk and water. Brush pastry edges with a pastry brush.
- Fold over the edges to form a small crust.
- Refrigerate for 20 minutes.
- Using the back of a spoon, spread mustard on the inside of the pastry.
- Top with tomato slices.
- Season with salt
- Place in bottom oven for 35 to 40 minutes.
- Just before serving, sprinkle with basil leaves.
BON APPÉTIT !
-SARAH