La Gastronomie Française sur Culturethèque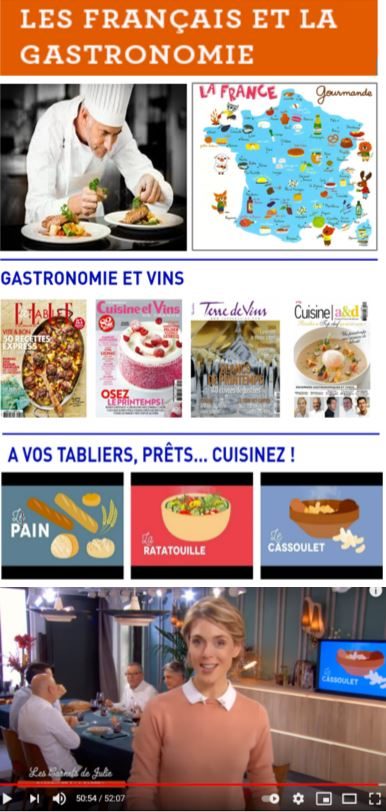 We hope you have been enjoying the ongoing addition of delectable new french recipes (recettes françaises) featured in the Cooking section of our AFSF blog. If you would like to explore more french recipes, culinary magazines and videos offering up a veritable feast of options, then look no further than the AFSF Culturethèque e-library which serves up excellent resources to expand your knowledge of all things gastronomic. French gastronomy explores the relationship between food and culture. Talented chefs select quality products with flavors that harmonize well together creating dishes that reflect the diversity of regions and terroir. The marriage between food and wine along with the aesthetics of the table complement the food to create the ultimate French dining experience. As explained in this gastronomos blog, to taste French gastronomy is to taste 'l'art-de-vivre à la française' (the french way of life).
You will find a broad selection of culinary magazines and engaging videos on Culturethèque to take you to the next level on your French gastronomic journey. Check out the Gastronomie et Vins section to find wonderful magazines such as Cuisine et Vins that introduce you to famous chefs sharing their favorite recipes and wines or Elle a Table to learn about the secrets of a well set french table. The engaging photography, interesting stories and detailed recipes will be sure to inspire and inform your next French culinary creation. Or you can watch this curated collection of videos that follow the travels of the French series Les Carnets de Julie as she finds all of the best regional recipes and terroirs to create delicious dishes that blend the talents of amazing guest chefs, growers and artisans. Enjoying listening to native French speakers explain the secrets of French gastronomy while exploring the beautiful countryside regions and history.
Visit the AFSF Library page for instructions on how to sign up for the Culturethèque e-library. Bonne lecture et visionnage des magazines et vidéos gastronomiques sur Culturethèque!