Galette salée bretonne
Galette salée bretonne / Breton buckwheat pancake
Discover the perfect recipe for Breton buckwheat pancake dough! Easy to prepare, this recipe is full of tricks that will delight your taste buds! You can add the filling of your choice!
Difficulty: easy
Preparation time: 20 minutes
Cooking time: 30 mn
Total time: 2 h 20 mn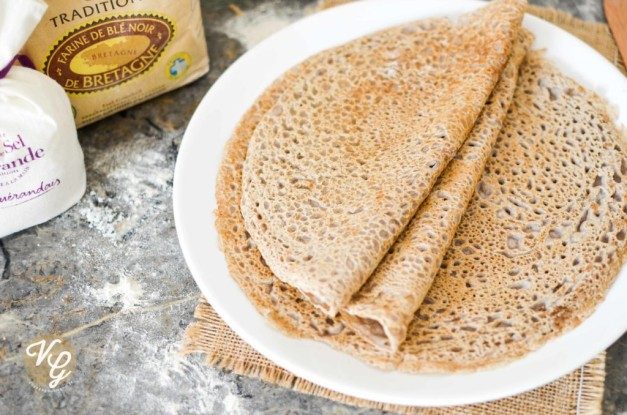 Ingredients :
Buckwheat flour330 g
Coarse salt10 g
Cold water75 cl
Egg

How to make it ?
1. In a bowl, mix flour and coarse salt.
2. With a whisk, pour in the water in two or three times, while mixing the preparation. The result is a smooth, thick paste to which an egg is added to give a nice color when cooked.
3. Filter and let rest 1 to 2 hours in the refrigerator.
4. Grease the crepe pan with an oil-soaked cotton ball. Pour a ladleful of batter, wait for the pancake to color, then remove it with a spatula and turn it over. Let it cook for another minute or so.
5. For a full galette, generously butter both sides of the galette and place ham and grated Emmental cheese in the center of one side, then break an egg in the center of the galette. Once it starts to cook, add salt and pepper and fold the edges of the cake so that only the yolk is visible. It's ready once the egg is cooked enough.
6. Enjoy!
-Jade