Earth Day - Mousse au chocolat anti gaspillage
If you decide to make hummus this week, don't forget to save the chickpea juice to make a dessert! :)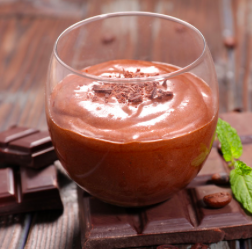 Total time: 60min
Preparation time: 15 min
Serving : 6
🍳INGREDIENTS:
- 150g Dark chocolate

- 150ml chickpea juice

- 60g sugar

- Vanilla extract


Whip the cold chickpea juice with an electric mixer. When the mixture starts to become frothy Add sugar.
Melt the chocolate in a bain-marie, this one must be liquid but not too hot.
Gently add the chocolate with a spatula to the preparation and put in the verrines.
Add vanilla
Put in the fridge for at least 4 hours, the mousse will set and thicken
Sarah, Thank you for your contribution!