Throwback on Bastille Day!
It's a wrap! Thank you all for coming to our Bastille Day event! Last Friday, the Alliance Française de San Francisco opened its doors to you from 6pm to 11pm to celebrate the French National Day. What a nice way to celebrate the big reopening of our theater, which was closed for six months for renovations!

First, let's thank our dear partners profusely, who made the celebration possible. Thanks so much to Music City San Francisco with whom we enjoyed working to feature Cocoa & Strings as part of the event. Thanks to La Fromagerie and Galaxy Desserts that contributed to the culinary trip of your taste buds. A big thank you to La Cave and Frederick that made you travel around French wines all night long. Last but not least, let's warmly thank Raphael Heftman, our dear photographer, who is behind every photo that you are looking at.
The Alliance Française de San Francisco's staff also wants to thank all of our amazing volunteers, thanks to whom this event has been a success.
Throwback to that wonderful night!
It was the group Cocoa & Strings that amazingly got the ball rolling. The two performers are coming from the Bay Area and are a part of a larger music collective that creates opportunities for women of color interested in music production and audio tech. They made a wonderful show where the beautiful voice of the singer matched perfectly with the sweet melody of the guitarist. Congratulations to them for their marvelous performance!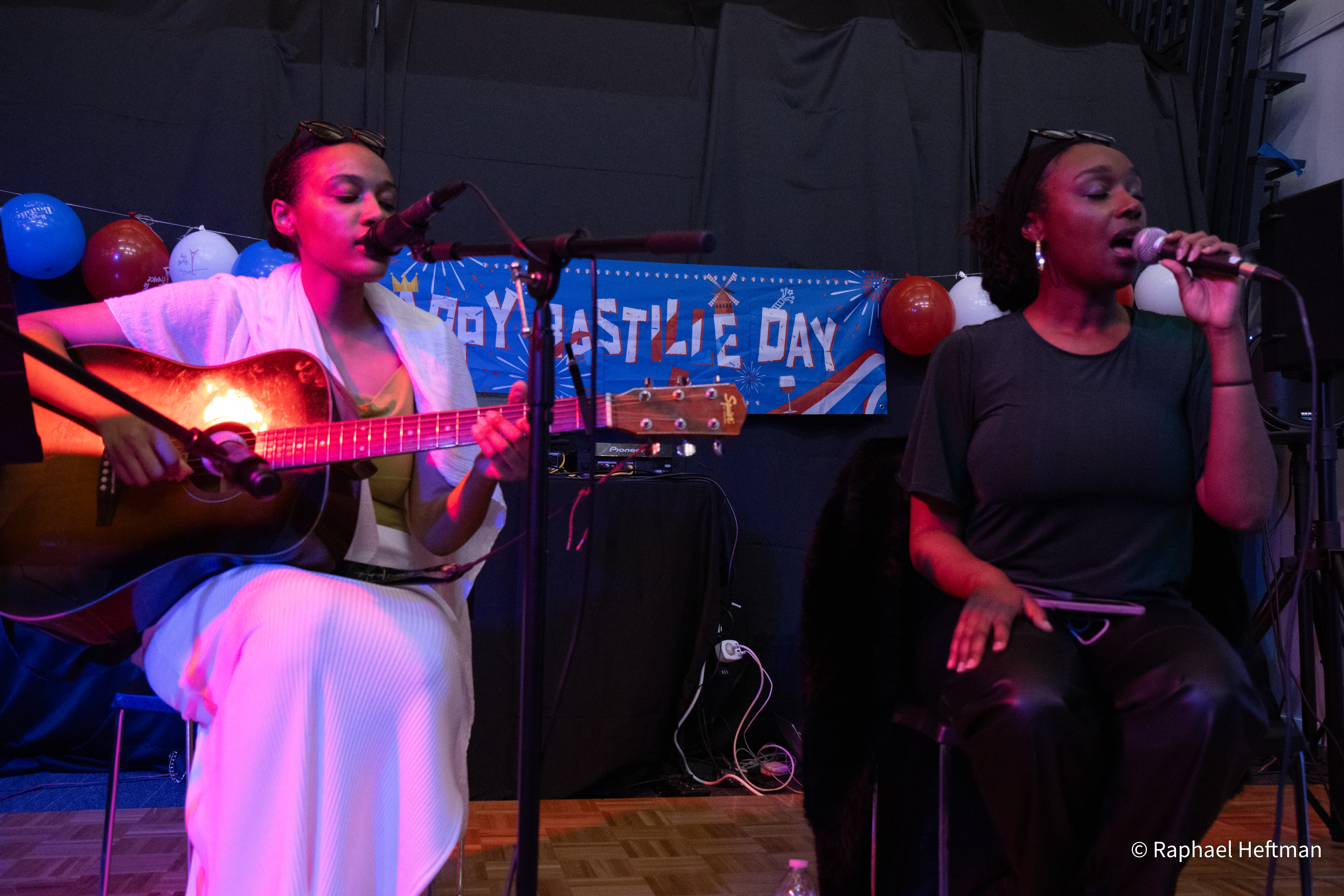 Then it was time for Le Cancan Bijou to appear on stage. Le Cancan Bijou is a specialty-themed dance troupe based in the Bay Area. They are giving a new lease of life to the traditional French Cancan with their ambitious choregraphies. It was a breathtaking show, full of frills and high-kicking dance moves. They received a huge ovation for their wonderful performance.

Finally, Damiam B went on stage to make you dance. Damian B is a DJ originally from Annecy in France. He spent years as a part of the underground scene in Seoul, Korea and he is now looking to share the "Love of Disco" in San Francisco.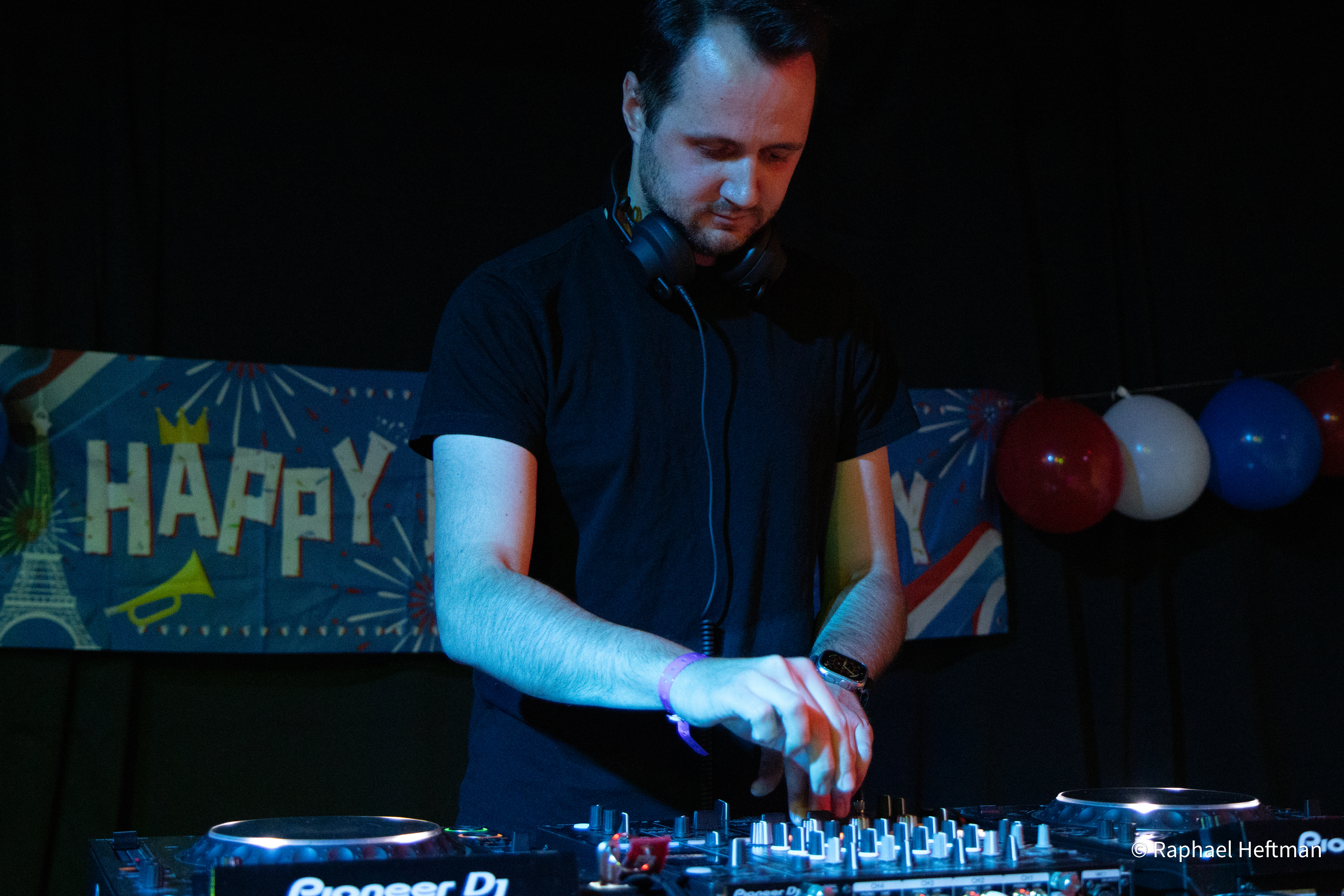 As a reminder, the Alliance Française de San Francisco is a non-profit organization whose mission is to support cross-cultural dialogue and to promote the diversity of French languages and Francophone culture abroad. It was founded in 1889 and it was actually the first one in the US. As a non-profit organization, we were so happy to host this celebration and to have you with us to celebrate the big reopening of our theater. The Alliance wants also to thank everyone that made a donation during the event, thanks to you we could continue to diversify our activities. The Alliance Française de San Francisco offers a lot of other opportunities to discover Francophone cultures and French language, and we would be so happy to see you on one of those. We offer French classes and you can even take French DELF/DALF and TCF exams. We also organize cultural events such as movie nights or wine tastings, and social events to practice French such as Cafe conversation or Language exchange.
Retour sur le 14 Juillet !
Et c'est fini ! Merci à tous d'être venus à notre événement pour célébrer le 14 juillet. Vendredi dernier, l'Alliance Française de San Francisco vous a ouvert ses portes de 18h à 23h pour célébrer la Fête nationale française. C'était aussi l'occasion de célébrer la grande réouverture du théâtre, qui avait été fermé pendant six mois pour des rénovations.
Tout d'abord, remercions nos chers partenaires, qui ont rendu la fête possible. Un grand merci à Music City San Francisco avec qui nous avons apprécié travailler pour faire venir Cocoa & Strings. Merci à La Fromagerie et à Galaxy Desserts qui ont contribué au voyage culinaire de vos papilles. Un grand merci à La Cave et à Frédérick qui vous ont fait voyager autour des vins de France tout au long de la soirée. Enfin, remercions chaleureusement Raphaël Heftman, notre cher photographe, qui est derrière toutes les photos que vous pouvez voir dans cet article.
Tout le staff de l'Alliance Française de San Francisco tient également à remercier tous nos bénévoles dévoués, grâce à qui l'événement a été un franc succès.
Retour sur cette soirée de folie !
C'est le groupe Cocoa & Strings qui a magnifiquement ouvert le bal. Les deux musiciennes sont originaires de la Bay Area et font partie d'un groupe de musique plus large qui crée des opportunités pour les femmes de couleur interessées par la production de musique et les technologies audios. Elles nous ont offert un show merveilleux dans lequel la jolie voix de la chanteuse s'accordait parfaitement avec la douce mélodie de la guitariste. Félicitations à elles pour cette magnifique performance.
Ce fut ensuite le moment pour Le Cancan Bijou de monter sur scène. Le Cancan Bijou est une troupe de danse basée dans la Bay Area. Elles donnent un nouveau souffle au traditionnel French Cancan avec leurs chorégraphies ambitieuses. Ce fut un show à couper le souffle, plein de froufrous et de mouvements de haute volée, qui leur a valu une ovation du public.
Enfin, Damian B a pris le contrôle de la scène pour un moment festif sur le dancefloor. Damian B est un DJ originaire d'Annecy en France. Il a passé plusieurs années comme membre de la scène underground à Séoul en Corée du Sud et il souhaite désormais partager "l'Amour du Disco" à San Francisco.
Pour rappel, l'Alliance Française de San Francisco est une organisation à but non-lucratif dont la mission est d'encourager un dialogue interculturel et de promouvoir la diversité de la langue française et des cultures francophones à l'etranger. Elle a été fondée en 1889 et ce fut la première Alliance Française des Etats-Unis. En tant qu'organisation à but non-lucratif, nous étions très heureux d'accueillir cette célébration et de vous avoir à nos côtés pour célébrer la grande réouverture de notre théâtre. L'Alliance souhaite également remercier tous ceux qui ont fait une donation durant l'événement, grâce à vous nous pouvons continuer à diversifier nos activités. L'Alliance Française de San Francisco propose de nombreuses autres opportunités de découvrir les cultures francophones et la langue française, et nous serions ravis de vous voir à l'une d'entre elles. Nous proposons des cours de français et vous pouvez même passer les examens pour les certificats de français DELF/DALF et TCF. Nous organisons également des événements culturels comme les Movie Nights ou les dégustations de vin, ou des événements pour pratiquer le français comme les Cafe conversations ou les Language Exchanges.
Leo