The Elzévir Apartment Newsletter
ABOUT BILL
You may have already seen some of his black and white photographs in the AFSF's corridors and staircase. Bill speaks fluent French and visits Paris at least twice a year, and he has been a regular student of the Alliance Française de San Francisco for almost 20 years. It is a pleasure to share some news about his last trip to Paris with you!
After each trip, Bill shares his photos and talks about his visits on bonjourparis.com. He also writes a newsletter. Find below some extracts and photos from his last newsletter.

Paris in early spring was a pleasure. I arrived in Paris in mid-February, and Ineke joined me in mid-March before we both headed to Milan at the end of the month for a perfume trade event. I loved being there for five weeks because it allowed me to fully relax and enjoy "Parisienne" life, visit friends and share meals with our neighbors.


If we didn't talk a little about the "manifs" and "poubelles" we'd be overlooking something you were all seeing in the news about "Paris, la poubelle ville de monde" so let's get that out of the way first. First, for the garbage collection, there are two organizations collecting trash, one public and one private. The public ones were on-strike but the private ones were not and our neighborhood is thankfully served by the private ones, so there have been no garbage issues in Le Marais and our surrounding areas. Next, the protests or "manifs". If you go to websites which provide daily updates on the strikes, you can avoid the "manif" areas, so more or less life seemed normal for us. For reference, if you are traveling on SNCF trains outside of Paris to other parts of France, I'd avoid Tuesdays, Thursdays and Saturdays until things settle down. Our train trip to Milan was on a Wednesday and was just fine, but we noted that the Tuesday train was cancelled. The SNCF posts cancellations after 17h00 the day before so you can at least have time to adjust your plans.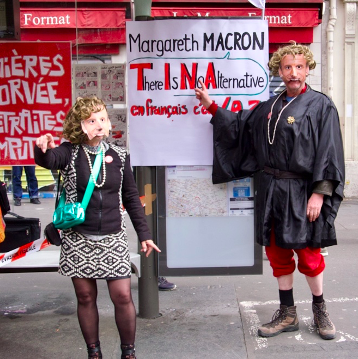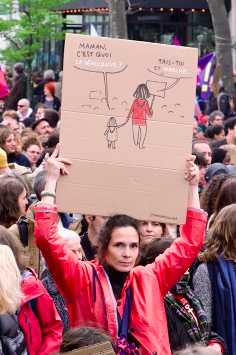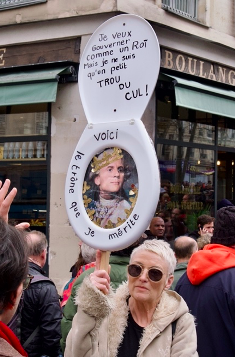 Now, I did go out to two manifs to take pictures and see what was "really" happening. I was a bit nervous carrying my Fuji XT-3 DSLR camera, but when I got there it felt very safe. I'd say roughly 70% of the protesters were young people just out of college. The signs they carried were quite creative at times, as were the chants, singing and dancing. Apparently at the very end of the march the "casseurs" showed up and broke windows, and it seems they aren't for/against but rather just want to break things, giving the protests a violent image. You can see MANY more pictures in my Bonjour Paris article – https://bonjourparis.com/photography/the-paris-street-protests-in-photos/ – and on my new Smugmug page – https://www.osuchphotography.com.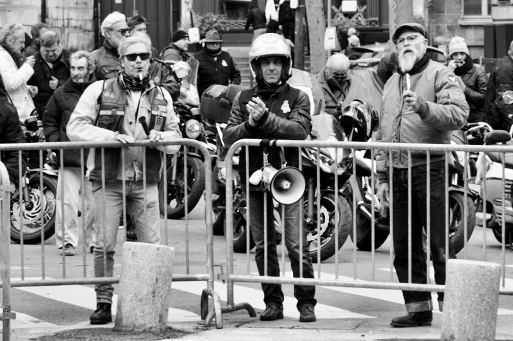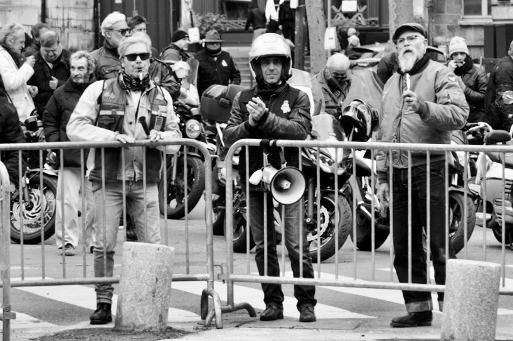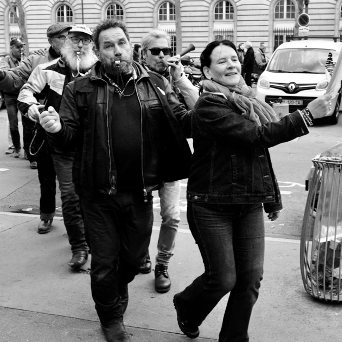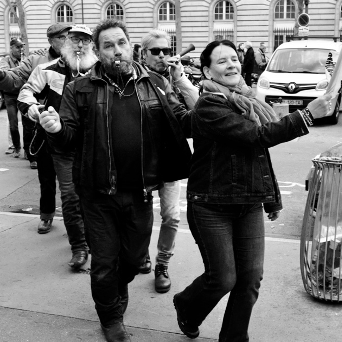 A different style of protest was by a group of people that drive motorcycles (i.e. motards). Mayor Hildalgo is putting a bunch of restrictions on motorcycles equivalent to cars even though they burn less fuel. Though they had a tough message for the mayor, they did know how to have fun too.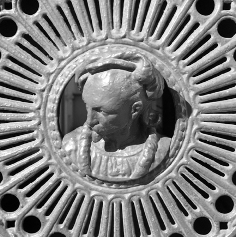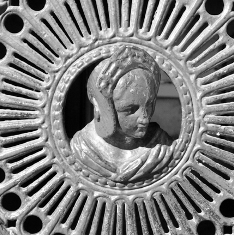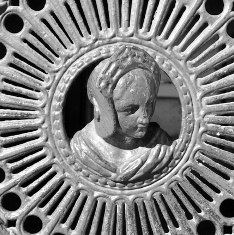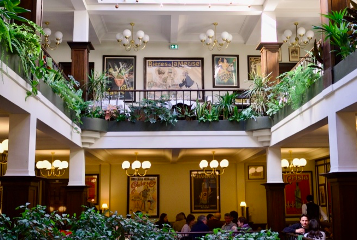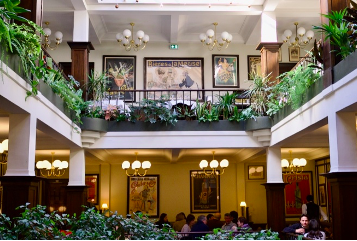 Putting all that aside, I did a bunch of walks, saw exhibits and visited with friends. One close friend I met through the Alliance Française French classes many years ago is Shirley, who has an apartment in the 15eme. We had lunch at the Café de Commerce, which looks quite ordinary from the front but wonderful in the back. An old "bouillon", it still holds true to its working-class character roots with reasonable prices but is also a notch up in sophistication these days. With Kathy and Shirley in that area of Paris, I've learned how to use new-to-me bus lines 72 and 69 which run along the Seine.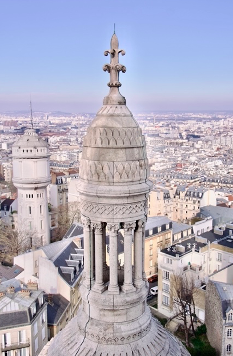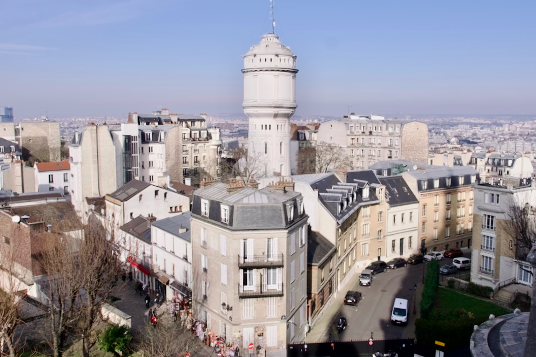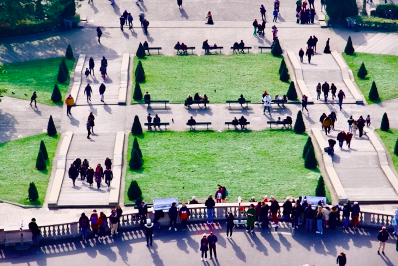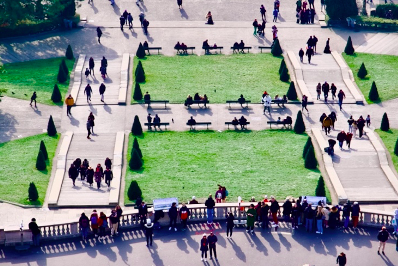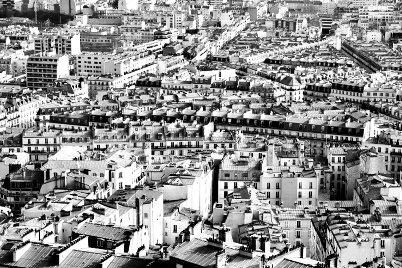 My first exploratory adventure was with Richard Nahem (https://www.eyepreferparis.com) up in Montmartre. We climbed the many steps to the top of Sacre Coeur where we had a beautiful view of the surrounding area. Afterwards I walked around the neighborhood taking photos, so please check out my other photos, including evening shots and an interesting atelier. I also went out for coffee and tea with Richard at Cafe Marie Antoinette (https://www.ipreferparis.net/2023/02/café-marie-antoinette-aux-petite-versailles-du-marais-boulangerie-and-pâtisserie.html) just on the other side of rue Rivoli. "Comme d'hab", I made it to one of Terrance Gelenter's Sunday get-togethers at La Coupole (https://terrance-paris.com/cafeterrance/), where I met a nice couple, Gloria and Luke, who live close to us. Thanks to both Richard and Terrance as they always give me starting ideas for new things to see.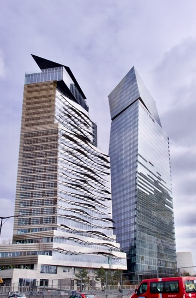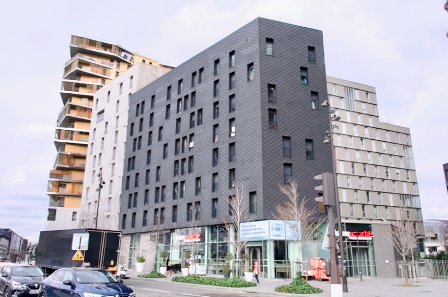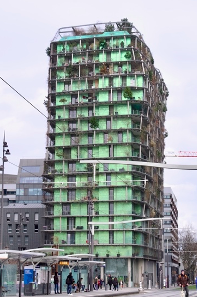 One thing I did see in the distance with Richard from Sacre Coeur was this wonky building near the Bibliothèque de France. The next day I took a trek out there to take photos and visit the library built via Mitterand's vision. The building with angled top is near the Péripherique, and that area has a collection of diverse and creative resident lodging with lots more going up now. Afterwards I had my first visit to the Bibliotheque de France where there was a photo exhibit. A massive library, I saw the photo exhibit and did a walk around. I was thinking that if you are a student doing research here, it is quite a luxury experience.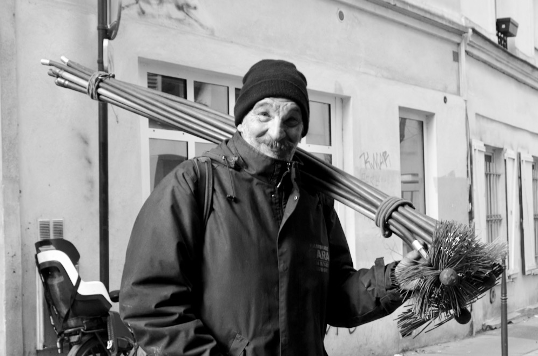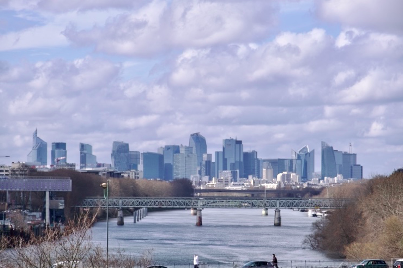 As I mentioned many times, I enjoy taking walks in French with "greeters" from Paris Greeters (www.greeters.paris). These aren't formal tours but are one-on-one walks mostly by retired volunteers who show you around their neighborhoods. My first one this trip was up in Menilmontant with Josselyne, who also loves to wander around Paris and take pictures, so we had that in common as we spent over two hours on parts of that neighborhood that I never had seen before. We stumbled across a chimney sweep and at the end finished at an eclectic café just a few blocks from the Belleville metro stop. According to Josselyne burning wood in a chimney was stopped many years ago but …


The second greeter walk was in Saint Ouen. Known predominately for its flea market, we walked around the western side and explored an area most visitors never see. Nelly is an ex-school teacher (she showed me her schools) who was born there and said "bonjour" to friends and residents many times throughout the walk. Saint Ouen is a combination of old and new and is where the Olympic athlete housing is being build (afterwards the housing will be made available to residents). It's right on the Seine and has a unique view of La Defense. We even visited a city school where you can learn to play an instrument and sing ! Both are required together.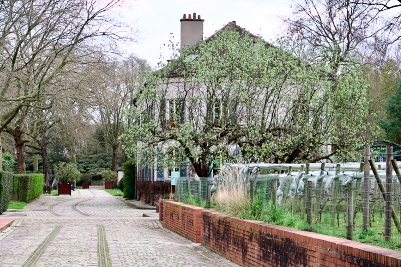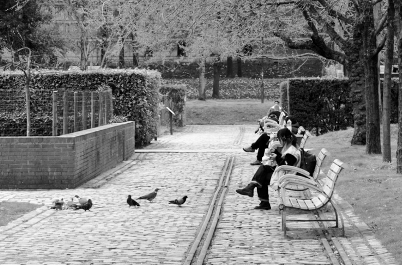 The final walk was not with a greeter but one I found through the l'Officiale des Spectacles (www.offi.fr). It uncovered Bercy for me, another area that I've never truly visited. We started off at the giant Ministry of Finance building whose architect was Russian and which has a heliport that has never been used since it vibrates the whole building. The guide shared that this area was historically outside the Paris tax zone and was where Parisians would travel to buy wine tax-free. Sort of like the duty-free zone at airports but instead of perfume you get barrels of wine. Fun fact: one of Johnny Hallyday's guitars is on a pedestal there, making for a kind of modern sculpture. The Bercy park is expansive, and I stumbled across an exhibit at the movie museum called "Top Secret" about spy movies and nearby is a carousel ride with a rabbit on it (see photo at beginning).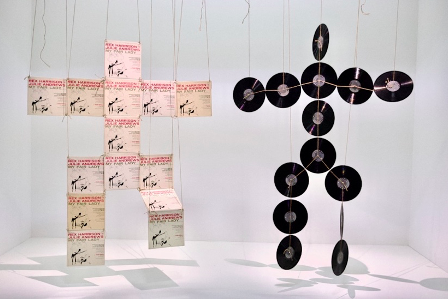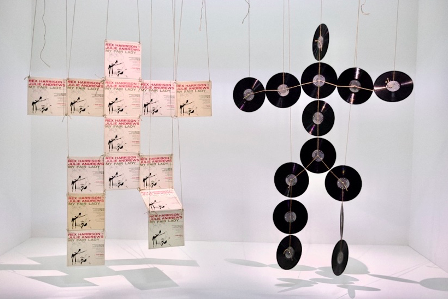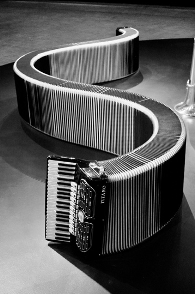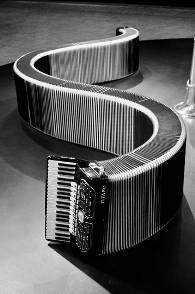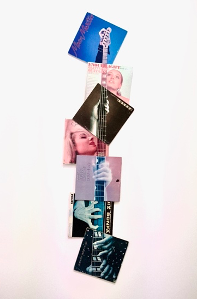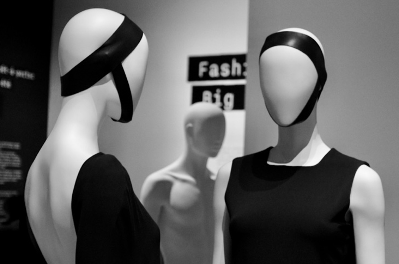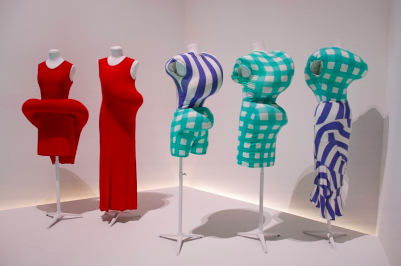 For exhibits, the most impactful for me was the Christian Marclay exhibit who took musical items (eg. records) and reconstructed them into art pieces. He also did other reconstructive art including a film that carefully crafted together the moments when people enter/exit doors in old films. It was so good that I bought the exhibit's book to leave at the apartment. Other exhibits were the car exhibit at the Arts et Metiers, photographer Elliot Erwitt, an immersive Mucha exhibit and Ineke's fashion favorite, Big Bang 1997.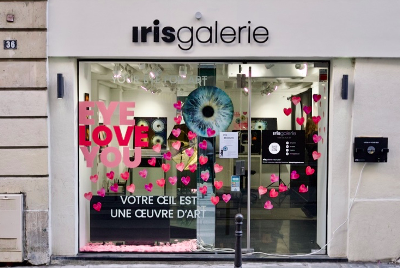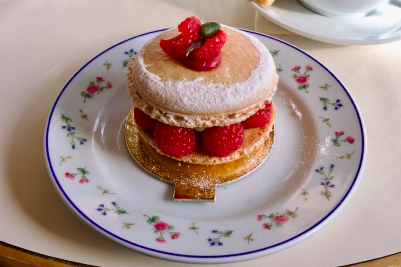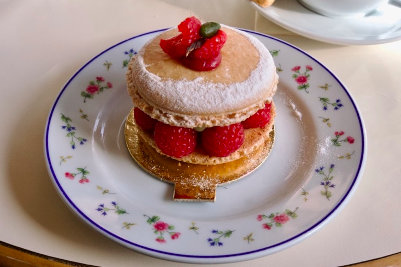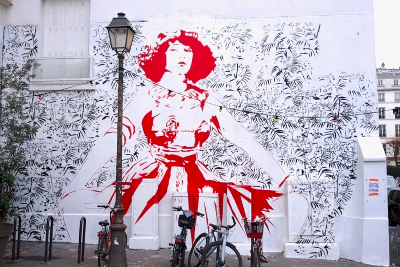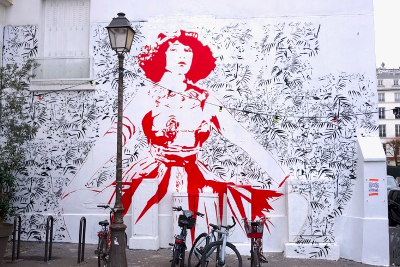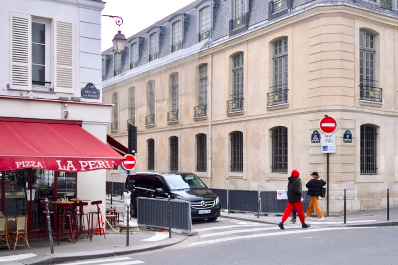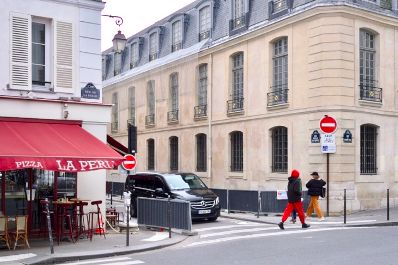 So what's new in the neighborhood? Well one thing that has popped up all over Paris are stores that will photograph your retina and create art pieces, and we have on rue Vieille de Temple. A very curious thing we couldn't quite figure out how it is a sustainable business model. I'm not sure how much business they are getting but I suspect some group invested a bunch of money into them.
On rue Elzévir, a Lemaire store replaced my favorite Adolpho Dominguez, who moved one street over into a smaller space. The mural diagonal from La Perle was also updated. Finally, the city is trying to restrict pass-through traffic in Le Marais so they just changed the direction of rue Vieille de Temple between rue des Francs Bourgeois and rue de la Perle. The first day it created a lot of chaos, as you can imagine.

As some of you know by now, I publish a subset of my best images each trip in my Vignettes series on Bonjour Paris (https://bonjourparis.com/tag/paris-vignettes/) including several sets between the last newsletter and this one. I'll be working on my new "vignettes" over the next months.
With Shutterfly closing down their share site, I have shifted over to SmugMug where you can see and buy Paris color (https://www.osuchphotography.com/Paris-Color-Street-Photography) and Paris B&W (https://www.osuchphotography.com/Paris-Black-and-White-Street-Photography) images from my visits along with other places around the world.
You can see more photos from this trip at:
Color - https://www.osuchphotography.com/Paris-Color-Street-Photography/Paris-color-street-photography
B&W - https://www.osuchphotography.com/Paris-Black-and-White-Street-Photography/Paris-black-and-white-street-photography-from-Spring-2023/
Manifestions - https://www.osuchphotography.com/Paris-Unique-Events/Paris-Manifestions-Spring-2023/
Next visit is in August, and I'm looking forward to it already. Paris is getting hard to leave.
Warmest wishes,
Bill and Ineke
Never hesitate to contact me at bill@elzevir.net