France-Amérique launches an app!
Founded by members of the French community exiled in New York City, France-Amérique was designed to raise awareness of the French cause among the American public and to support the Resistance effort organized by Charles de Gaulle. Its first issue on May 23, 1943.

Published in a bilingual format in French and English, France-Amérique magazine appeals to anyone interested in French culture and French-American friendship. The magazine focuses on cultural and economic affairs, French heritage – fashion, museums, gastronomy – while promoting the French language and the dialogue of ideas between our two countries.


To celebrate la rentrée in September, France-Amérique Magazine is launching its mobile app, available to download for free on the App Store and Google Play.
"We are delighted to share the magazine's latest development with our readers," says Guénola Pellen, director of France-Amérique. "Our subscribers can now choose the reading format that best suits their needs and expectations." "The app can be used on smartphones, tablets, and computers, is compatible with iOS and Android, and also gives you access to the archives of past issues. You can even use it to buy single copies of the print version! "Whatever subscription you choose," says Guénola Pellen, "you will have the same high-quality reading experience with both our app and our print magazine."
our Partnership
Use this special code, ALLIANCE30, for 30% off one-year digital subscriptions to France-Amérique bilingual magazine. When you apply that code to the shopping cart, the price will drop instantly from $89 to $62. This is the lowest digital price of the year!
MONTHLY ISSUE
The latest issue is available here: "The Fashion & Beauty Issue - September 2021"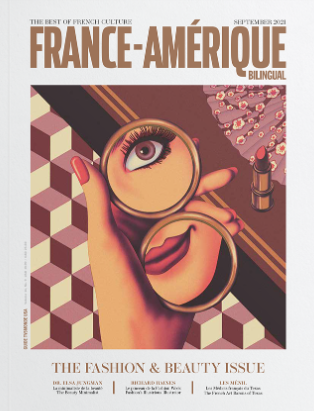 When Richard Haines moved to New York in 1975, photography had replaced fashion sketches and the illustrator found himself unemployed. Forty-six years later, Haines has become one of the most sought-after artist in the fashion world. We met him in Paris during la semaine de la haute couture. Also in this issue, read about Dr. Elsa Jungman, the California-based French dermatology expert and "beauty minimalist" who wants to protect our skin's microbiome, and Dominique and John de Menil, the French couple behind one of the biggest private museums in America: Houston's Menil Collection.
Every month, read about:
Analysis of French-American news • French cultural events in the United States • Interviews with leading intellectuals • Fashion tips • Traditional and contemporary recipes • Reports from across the United States • Authors' perspectives on America • Portraits of artists, entrepreneurs, and other French-American personalities • The best of Francophone literature translated into English • French movies and series in theaters and online • French habits and linguistic subtleties • Unique places to visit in France • And so much more…