Bastille Day Events 2021 - San Francisco Bay Area
As Bastille Day approaches (July 14th), we want to share some events with you:

REMINDER: Don't forget to participate in the photo contest by using the special route map on Mapstr: Bastille week in SF and Bay Area. (details below)


---
Bastille Day DISCOUNT
Get a 20% off on our French for Travelers workshops!
Offer valid until Tuesday, July 20 (11:59pm)
Discount automatically applied at the checkout.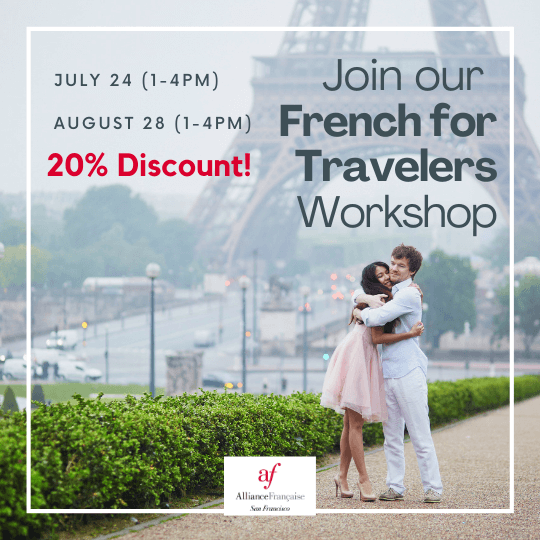 Sign up Sign up


---
Bastille Day Quiz and Conversation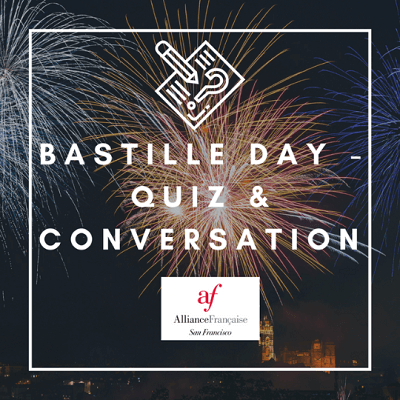 The AFSF is hosting a Bastille Day quiz via Zoom on Friday, July 16th. You may know that Bastille Day, July 14th, marks the birth of the French Republic. But what do you really know about France's history and politics? Come join us for a fun quiz event to find out! After the quiz, stay with us to talk about France and Bastille Day!
Free event
Friday July 16th
10h30-11h30am PDT
With Coline
Congratulations to Nancy Ruiz who won the quiz!
She will receive a gift basket from Fabrique Délices with some good French food!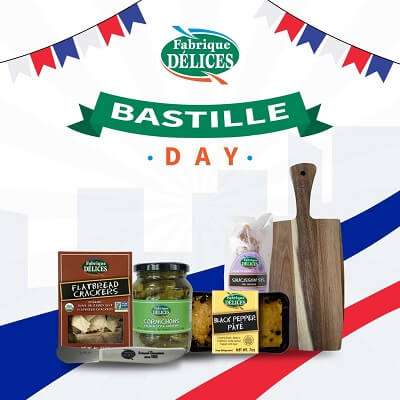 ---
Participate in the Bastille Day photo contest and treasure hunt!!!
Go online or visit your local French and Francophone restaurants, pastry shops, vineyards, stores, farmers markets, vendors, and service providers such as hairdressers, travel agents, newsstands, schools, associations, food stores, and others.
Take a picture or video of yourself at the location using, eating, or drinking a product from that merchant and submit it (details below).
Check out the map "Bastille Day in SF and Bay Area" on the app Mapstr for participating merchants to make your Chasse au trésor — treasure hunt — easier!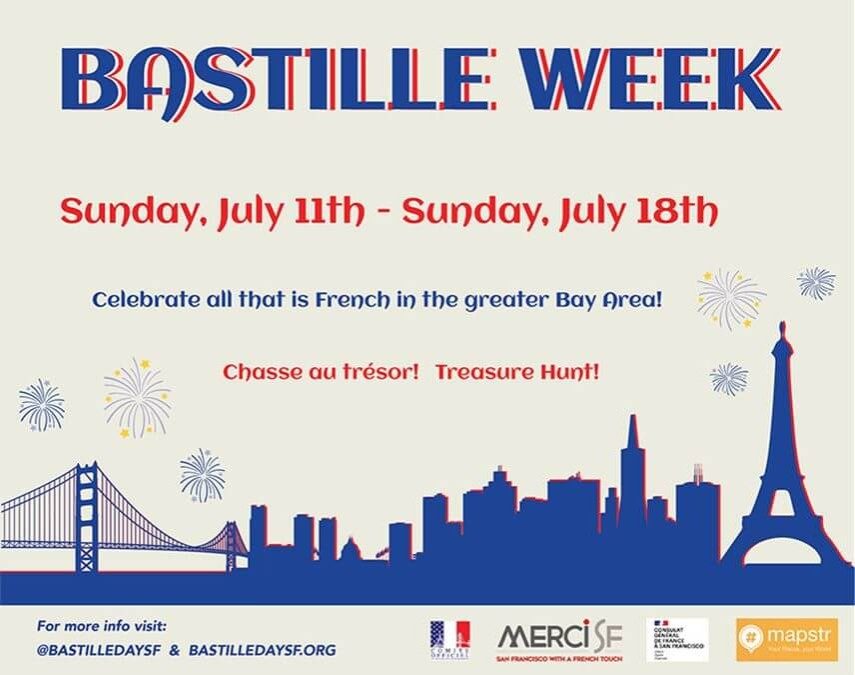 How to Submit Your Photos
Take 2 photos of as many businesses visited and post them to your personal social media accounts
Tag @bastilledaysf and the business visited in the post

Use #bastilleweeksf in the caption
Note: If the product is received via online purchase simply just post an image of the product or you enjoying it.
Winners will be chosen based on the number of posts and visits they accomplished throughout the week. 
The Grand Prize offered by Calparrio Travel: Two economy airline tickets from SFO to a complimentary Club Med 7-night land-only vacation for two!
Several other great prizes will be awarded to the participants that visit and post images of the most businesses listed on Mapstr. The goal is to help you discover as many new restaurants, artists, service providers, and associations as possible throughout the week.
Many of the participating businesses will also have special promotions going on that week to thank you for your involvement and for celebrating Bastille Day!
More information More information