Language Exchange
Date: 17 Nov 2022, 6:00pm - 8:00pm (GMT-08:00) Pacific Time (US & Canada)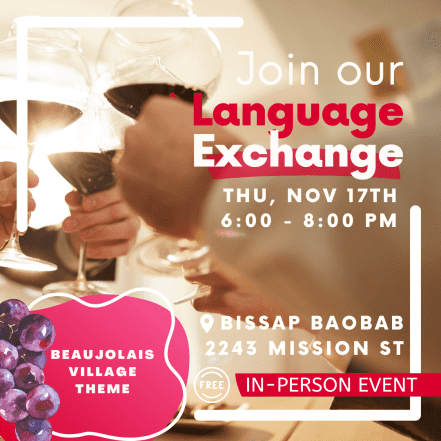 ✨FREE IN-PERSON LANGUAGE EXCHANGE✨
Because you loved it the first time... The Language Exchange is back at a new location! ⠀⠀⠀⠀⠀⠀⠀
Come practice French with new people during our next Language Exchange. ALL languages, ALL levels and ALL personalities are welcome! ⠀⠀
📆 When? Thursday, November 17th, 6:00 pm
📍 Where? Bissap Baobab in the Mission: 2243 Mission St, San Francisco, CA 94110 (NEW ADDRESS)
👨‍👩‍👧 Who? Whatever your level, or language, please join! Plus on est de fous, plus on rit!
💵 How much? Nothing. Zero. Nada. Rien du tout!
😷 How? We are practicing social distancing and wearing our masks while not eating or drinking. Safe partying is the best kind of partying!
Reduced capacity event! If you have a last minute impediment, please inform us directly by email (louise@afsf.com), so that we can give your place to others who could not register.
E-mail louise@afsf.com for any questions.
Sorry, you've missed the RSVP deadline for this event.