Bastille Day - July 14
Date: 14 Jul 2023, 6:00pm - 11:00pm (GMT-08:00) Pacific Time (US & Canada)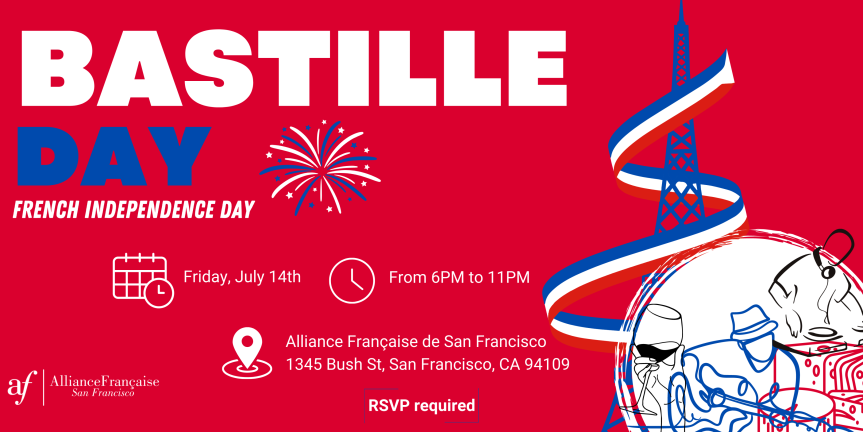 THE EVENT IS SOLD OUT,
BUT YOU CAN JOIN THE WAITLIST
HERE:
(https://www.eventbrite.com/e/bastille-day-tickets-661432631807)
🥳 Are you ready? The Bastille Day program has been released!
We look forward to seeing you to celebrate July 14th! ❤️

🎫 Remember, if you cannot make it to the event, please cancel your RSVP so that someone else can enjoy Bastille Day with us!🎫

📅 Date: July 14, 2023
⏲️ Time: 6:00 PM to 11:00 PM
📍 Where: Alliance Française de San Francisco, 1345 Bush St, San Francisco, CA 94109.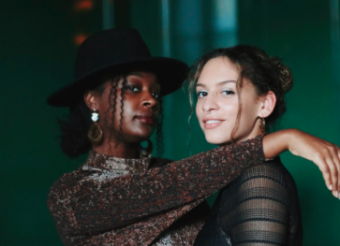 From 6:30pm to 7:45pm: A performance by Cocoa & Strings
This sister duo from LA, now Bay Are transplants, have been performing for over 12 years.
These ladies are all apart of a larger Bay Area based music collective co-founded by singer songwriter Devon White called @wearewoc. This organization creates opportunities for women of color interested in audio tech and music production.
Cocoa & Strings are a cross genre cover band performing music ranging from classic ballads and jazz to hip hop & R&B.
In collaboration with Music City San Francisco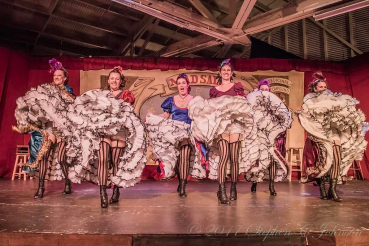 From 8:00pm to 8:45pm: French Cancans by Le Cancan Bijou
"Le Cancan Bijou is an award-winning, specialty-themed dance troupe based in the San Francisco Bay Area. The talented dancers of Le Cancan Bijou bring a new excitement and playful spirit to the traditional, high-kicking French Cancan. Offering Classic French, Old West, and Contemporary styles, their exciting moves have been an addition to countless venues and events."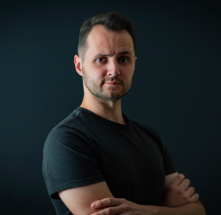 From 9:00pm to 10:30pm: DJ set by Damian B
« After years of being part of the underground scene in Seoul with a strong influence of House/Disco and French Touch. Damian, originally from Annecy, France, is now looking to share the « Love of Disco » in San Francisco. »




In collaboration with: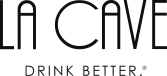 La Cave is a true French wine shop selling boutique wines found nowhere else in the US. 7th generation wine merchant, Frederick Boelen founded La Cave in Napa Valley as an extension of his French shops based near Honfleur in Normandy, France.

Ruben Donze, a native of the French Alps, opened his first cheese and sandwich shop in the Dogpatch in 2012. He followed up with a second FiDi location in 2015, and La Fromagerie now has four locations across San Francisco. The buyer's European roots are apparent in the selection of over 40 cheeses, which largely hails from France, Italy and Spain.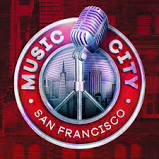 MCSF is the future HUB of music in San Francisco. We're bursting with activity: from a music-themed hotel & hostel to multiple live music venues, rehearsal studios, and bar & restaurant, this building was made for musicians, music-lovers, and everyone in-between.

Brioche Pasquier is France's number one brioche brand and our delicious products are made following traditional family recipes since 1936. Family-owned, the company has production facilities worldwide, including a Croissants and Frozen Dessert production facility in Richmond, California. We thrive to become America's favorite French bakers.
As well as traditional brioche products, Brioche Pasquier produces French iconic desserts such as macarons, mousse cakes, tarts available in retail, in-store bakery and in food service. Our beloved frozen croissants are available in the frozen section of grocery stores, and online with exclusive products for Williams Sonoma.


Photograph: Raphael Heftman

and much more...food, French games…🎊


If you have any questions, please contact louise@afsf.com
Sorry, you've missed the RSVP deadline for this event.