Theater Workshop for Adults
Date: 08 Feb 2023, 6:00pm - 8:00pm (GMT-08:00) Pacific Time (US & Canada)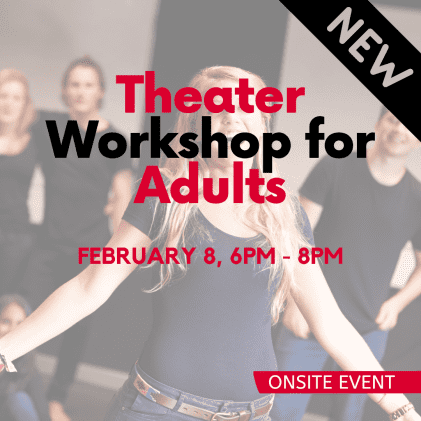 NEW! 🇫🇷Dans une atmosphère amicale et divertissante, les participants auront l'opportunité d'utiliser leur vocabulaire et de s'exprimer en français avec passion et clarté à l'aide d'exercices d'improvisations dirigés et de situations imaginées par les élèves!
In a friendly and fun atmosphere, the students will have the opportunity to use their vocabulary to express themselves in French with passion and clarity in a relaxed setting using short improvisation exercises!

💡What am I going to learn?
Enrichissement du vocabulaire au travers de situations imaginaires jouées en groupe - build up and practice of french vocabulary through story telling
Travail sur la prononciation - practice of proper pronunciation
utiliser la pratique du théâtre pour progresser en français, et améliorer son expression - Deepened appreciation of the french language, increase in self expression and confidence skills

📆 When? Wednesday, February 8, 6:00pm - 8:00pm.
📍 Where? Alliance Française de San Francisco, 1345 Bush Street, San Francisco, CA 94109
👨‍👩‍👧 Who? All levels: Elementary, Intermediate, Advanced & Proficient

💵 How much? $40


If you have any questions, please contact louise@afsf.com

PHOTO RELEASE: By attending this event, I hereby grant ALLIANCE FRANCAISE DE SAN FRANCISCO permission to use my likeness in photograph(s) in any publications or publicity materials (including but not limited to books, newsletters, videos and Web use), in perpetuity. I will make no monetary or other claim against ALLIANCE FRANCAISE DE SAN FRANCISCO for the use of the photograph(s).
Sorry, you've missed the RSVP deadline for this event.