Alliance Francaise San Francisco French classes and Francophone cultures
›
Products
›
Af-odyssee-b2-exercise-book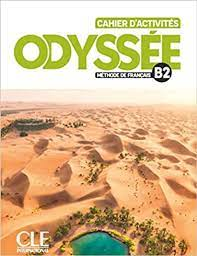 Odyssee B2 Exercise book
This product can't be ordered online.

Contact us to order it at afsf@afsf.com.
Description:
Cahier d'activités
d'Odyssée
, méthode de français langue étrangère (FLE) pour grands adolescents et adultes, niveau B2.UNE EXPERIENCE IMMERSIVE DE LA FRANCOPHONIE
Les thèmes vivants et actuels des réalités francophones centrés sur les besoins langagiers des apprenants, pour les inciter à communiquer et à agir.
LE GOUT DES AUTRES
Une attention particulière portée aux contextes socio-culturels avec un accent sur les interactions sociales, professionnelles et de loisirs, et la pratique active de la médiation.
Des tâches et des projets motivants pour acquérir une aisance culturelle dans toutes les situations et interactions quotidiennes.
L'ASSURANCE D'ARRIVER A BON PORT
Des itinéraires multiples et bien balisés.
Une multitude d'activités de mise en pratique qui tirent parti des possibilités offertes par les nouvelles technologies.
Un équilibre éprouvé entre les compétences et la grammaire, le vocabulaire, la phonétique.
UNE BOITE A OUTILS FLEXIBLE
Une possibilité infinie de créer des parcours individualisés grâce à une précieuse banque de ressources.
Une très grande variété de documents : articles, sites web, blogs, applications, infographies, vidéos, émissions télé, extraits de films ou de séries, documentaires, affiches, tableaux...